I've been sharing what I'm reading throughout the year for the 2017 Catholic Reading Challenge, and we are down to the last few.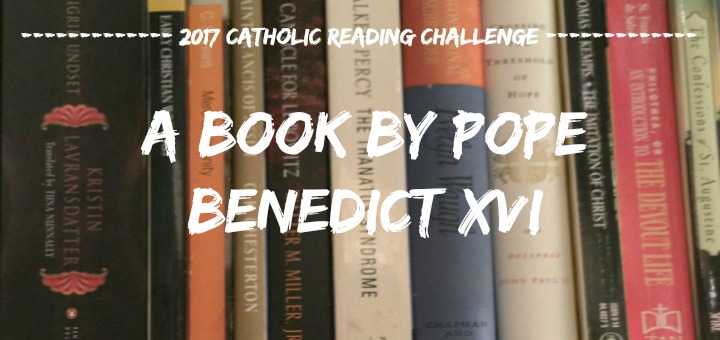 Category: A Book by Pope Benedict XVI (a.k.a. Cardinal Joseph Ratzinger)
This book is a really quick read; I got through it in under two hours. It provides an excellent introduction to the most significant biblical roots of the Catholic Church's teaching on Mary and how her role is woven into the fabric of our faith. (Since this book was written before Cardinal Ratzinger became pope, I will refer to his authorship here by that name.)
The book is basically divided into two parts. In the first section, Ratzinger states that "the image of Mary in the New Testament is woven entirely of Old Testament threads," and he identifies three main "strands" (p.12):
Mary resembles the "great mothers" of the old testament — like Sarah and Hannah.
Mary is a picture of "daughter zion" — the people of Israel — with whom God has established his everlasting covenant.
Mary is the "New Eve" — a woman whose "yes" birthed life, where the disobedience of the first woman had birthed death to mankind.
Ratzinger's analysis of these threads gives great insight into why our correct understanding of Mary and her significance hinges on a correct understanding of how all of Scripture — the Old and New Testaments — must be taken together to tell the story of salvation history. A major take away for me was the reminder of how important it is for Catholics to know the Old Testament just as well as the New Testament, which is a theme in Scott Hahn's writings as well (another name on our 2017 Reading Challenge).
"Wherever the unity of Old and New Testaments disintegrates, the place of a healthy Mariology is lost." (p. 32)
Another major take-away from this first section of the book is the realization of God's beautiful incorporation of the feminine and "woman" in his salvation/redemption plan for mankind. Mary and her role points to so many other feminine relationships and roles in Scripture, which Ratzinger unpacks throughout the book, such as "wisdom" being a feminine noun in the Old Testament and the Hebrew word for "Spirit" being feminine as well.
The second part of the book is rooted in the foundation of Old and New Testament unity examined in the first part, offering specific discussion of the three Marian dogmas: (1) Mary as Virgin and Mother, (2) her Immaculate Conception, and (3) her Assumption. Here are a few good nuggets from that part:
On Mary's Virginity and Motherhood of God…
"To bear the 'Son' includes the surrender of oneself into barrenness. Now it becomes clear why barrenness is the condition of fruitfulness–the mystery of the Old Testament mothers becomes transparent in Mary." (p. 52)
On Mary's Immaculate Conception…
"…it signifies that Mary reserves no area of being, life, and will for herself as a private possesion: instead, precisely in the total dispossession of self, in giving herself to God, she comes to the true possession of self." (p. 70)
On Mary's Assumption…
"…one could say that the dogma of the Assumption is simply the highest degree of canonization, in which the predicate 'saint' is recognized in the most strict sense, i.e., being wholly and undividedly in eschatological fulfillment." (p. 74)
Hopefully that gives enough to pull you into this book yourself. With a very minimal investment of time, I believe you will come away from reading it with a deeper knowledge of how Marian dogma is extremely rooted in Scripture. For me, such insights only help to deepen my devotion to our Blessed Mother.
---
What Book by Pope Benedict XVI did you read for the #2017catholicreadingchallenge? If you are posting your pick on social media, remember to use the hashtag!
Copyright 2017 Jessica Ptomey