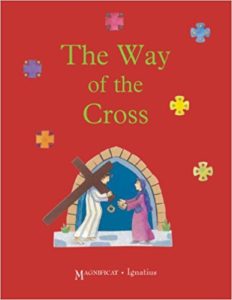 I love the tradition of praying the Stations of the Cross on Fridays during Lent, and I love doing it in our home around our prayer table. Sometimes it's just our family, and other times it's us and another family or two after sharing a simple soup super. But those of us with lots of young kids can find instituting the practice of praying the Stations (and other prayers) a bit daunting. It's hard for them to sit still for that long when they are at young ages. They just don't have the attention span and patience (especially in the evening) for the full blown version.
We have all littles (6 and under) right now, and I really desire for them to embrace this beautiful prayer practice and have it grow with them. So, a couple of years ago I created a kid-paced routine for praying the Stations — pieced together from various resources and practices I had observed other families doing. I use the children's book The Way of the Cross as the guiding resource, which was a gift from godparents a few years back. It is so beautiful!
My kids love this routine. It can be as short as 10 minutes, which is often just the right amount of time when kids are young and learning to adopt this prayer practice. When you start small, it is easy to build on a practice with time and let it grow with your family. We want our children to love prayer — not be overwhelmed by it. After all, loving should be the goal of all of our prayers anyway.
Our family and friends have really enjoyed this routine, and I'm sharing it with you — just fill out the form below and you will get a PDF copy to use in your home. God bless your family's Lenten journey!
Copyright 2018 Jessica Ptomey