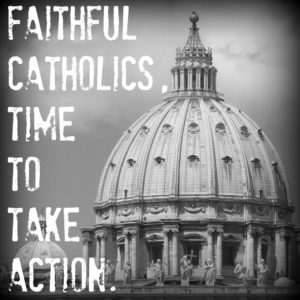 It is fair to say that we Catholics are in the middle of the most terrible church crisis in American history. A couple of weeks ago the Pennsylvania grand jury report revealed devastating, disgusting and demonic accounts of sexual abuse of minors by priests in Pennsylvania. The internal church documents that the grand jury reviewed contained "credible allegations against over three hundred predator priests" in six PA dioceses. I didn't need to read very far into the report before being sick to my stomach and outraged for these victims whose lives have been shattered. The most grave injustice is the concealment of these acts and priests by the Church officials and bishops whose primary motive was preventing scandal.
Well that is over. The silence and cover-up is ending. It's all coming out. But Catholics, prepare yourselves, because that report was from just one state! We need investigations of every diocese and every bishop. If true reform is going to happened, then we have to uncover all that has been hidden and every bishop who took part in the cover-up of abuse at the hands of clergy. And that's going to be a lot of people, as indicated by the most recent bombshell of testimony released by Archbishop Carlo Maria Viganò on August 24. If you have not done so already, read the 11-page document that details the Cardinal McCarrick scandal and who knew about his disgusting behavior. Viganò's testimony seems highly credible, and if it's true, then every Catholic should be calling for Pope Francis to resign along with all the bishops responsible for turning blind eyes to McCarrick's behavior, which includes Cardinal Wuerl, McCarrick's successor in the Washington Archdiocese.
When I say every Catholic, I mean every Catholic. I mean me and you; I mean my parish priest and yours. We are the ones who must fight for these victims and fight for our Church to be rid of this evil. Journalist Rod Dreher covered the priest abuse scandal in Boston years back, and his discovery of the depth of the cover-up caused him to leave the Catholic Church. In one of Dreher's recent posts on the current crisis he said that he knew how compromised many of the bishops were, and he came to a devastating realization:
"…the 'good bishops' — those who actually believed what the Catholic Church taught, and who lived chastely and celibately — were ultimately never going to criticize their brother bishops or take any risks to talk openly and frankly about the crisis. I was faced with the unavoidable conclusion that nothing serious was going to change in the Church, and that I had to accept that as a Catholic.

The laity, by and large, did not care. They were satisfied to believe the bishops' reassurances that they (the bishops) were on top of things, and were leading the Church to a better place."
Dreher left the Catholic Church because of the inaction of two groups of people: faithful bishops and faithful laity. And I'm saying, no more. Faithful Catholics — Bishops, priests and lay people — it is time to take action and fight for the cleansing of your church in America (and around the world). And make no mistake, this will be a fight. It will require some sacrifice of you — more than your prayers and fasting (which we must continue). It will require a sacrifice of your time, your comfort, your relationships. It will require you to make repeated phone calls and send letters. It will require you to hold a sign and stand in a protest until change occurs. You don't have the option of not having an opinion or not knowing what to think or do. Start with one small action, and God will help you multiply it.
A couple of days ago Bishop Robert Barron posted a video on the Church scandals, expressing why we need to fight. He reminds us that we all have a prophetic role as baptized members of the body of Christ. I encourage you, as Bishop Barron says, take action in your role as prophet right now. You and I are the ones to stand up and fight for the church and be the church — to stand in the gap for those victims of this terrible abuse and stop at nothing short of complete cleansing and reform in the Catholic Church.
If you are ready for the fight, I have some tools and action items for you:
Start locally in your diocese — meet with your parish priest and ask him to take a public stand against bishops who have been part of the cover-up, especially if your bishop is one of them. I am part of the Washington Archdiocese; so that means that I will be calling for Cardinal Wuerl to resign and asking my priest to join the voices of other courageous priests in our diocese publicly declaring the same. If your priest is justifying the behavior of silence and cover-up; it's time for you to be prophetic in your parish. Your ministry role might be taken away; you might not be his favorite person anymore — let it be. Fight the good fight, because nothing you lose will be of eternal significance. In fact, your own inaction actually makes you complicit and culpable.
Pick up your phone — repeatedly! Call the pastoral center (bishop's office) in every diocese (starting with yours) where there is a bishop who has failed to shepherd the flock, is lying to cover his back, or is offering justification for his behavior or "record." State your name and parish, and clearly communicate your demand that the bishop resign. Set a reminder on your phone, and repeat that phone call weekly. Can you imagine what it will be like for a bishop to have his phone ringing off the hook with requests for his resignation? If you are in the Washington Archdiocese like me, you need to be calling Cardinal Wuerl's office with this message…repeatedly. Oh, and you can also let him know that he won't be getting one cent from you for his annual Cardinal's appeal this year.
Send letters — Send letters to your diocese, the USCCB, and the Vatican repeatedly. Demand resignations where appropriate, and also petition total transparency and open investigations to reveal all past cover-ups and credible allegations that have been made against priests, teachers, or anyone else working with children in Catholic institutions. The Siena Project has created templates that make this incredibly easy for you.
Protest publicly — Join public protests at compromised bishops' residences and pastoral offices. This is where you sacrifice your time. Give up part of your Saturdays to make your voice heard. Ask yourself how much renewing the Church and ridding it of this evil should mean to you, and sacrifice accordingly.
Plenty of people are saying, with Rod Dreher, that nothing will ever change. But if that is the case, then that means faithful Catholic priests and lay people have failed to act — because we outnumber the corrupt, unfaithful ones! Don't be part of the failure of the Church; be part of her renewal. Be a St. Catherine of Siena, a St. Thomas More, a St. Francis de Sales — be like the saints throughout the centuries whose actions contributed to the Church forcefully advancing. Fight for your church, and don't stop fighting! May God give us the desire and strength to do his will and resist the terrible sin of apathy and sloth. St. Michael the Archangel, defend us in battle! Mary, Mother of the Church, pray for us!
Copyright 2018 Jessica Ptomey