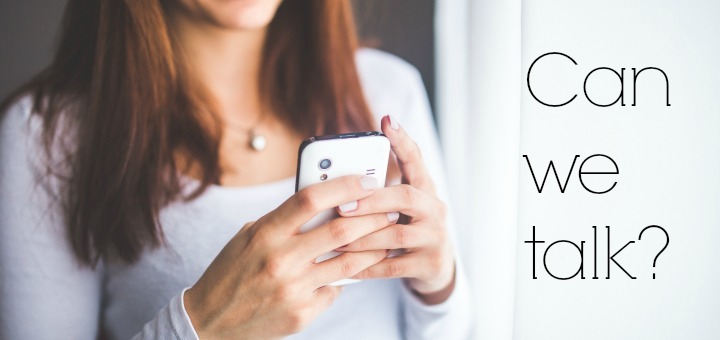 I was burning through Jennifer Fulwiler's new book (One Beautiful Dream) a couple of weeks ago (very good, by the way!), but there was one place in the book that I paused for a minute to think, and I've been thinking about it ever since.
Fulwiler was describing her regular conversations with a friend that lived locally at the time, and she said this: "We talked on the phone every day." I put the book down. I thought for a minute about why that sentence sounded foreign to me, and a realization materialized that has been bothering me for quite awhile…
I rarely talk to my friends on the phone anymore.
When we are not hanging out in person, the trend is for us to text each other. I was suddenly aware of a phenomenon in my life that I greatly disliked, a pattern of behavior that had normalized itself within my relationships — perhaps with well-meaning intentions — and now dictates both the intimacy of my friendships and the frequency of conversations with those friends.
I thought back to a decade ago, before texting became standard protocol for regular communication with family and friends, when it was normal to have a phone conversation with a friend be part of my day. As I sat there, letting this realization hit me, I felt sad. I realized that I don't like the status quo, and I would be willing to bet that many of you don't like it either.
Now, I know some people's defenses might be going up here, and you might be thinking: Oh, no. Here goes one of those anti-technology/anti-texting posts. Fear not. I find texting to be practical and useful for many quick points of connection in our daily lives (i.e., needed items from the store, double checking dates/times, quick answers, etc.), but I think we have definitely allowed quick connections to replace meaningful conversations.
Texting friends for a purpose that is text-appropriate makes good sense, but it has proved hard to prevent that format from replacing the need to have a conversation with a friend. The thing is…we have fooled ourselves into thinking that we are having conversations at all. Sherry Turkle unpacks this astounding trend in her 2016 book Reclaiming Conversation.
You might ask: Okay, what is the big deal here? We all lead busy lives, and we have a lot of stuff going on. Isn't it good that we are doing these daily quick check-ins with friends? We are keeping "connected." Isn't that better than going a couple of weeks without seeing each other? Continue reading →