In 2020 The Catholic Reading Challenge is reading 24 different short stories by 12 different authors. Each month we will focus on one author, reading two stories by that author. During each of our bi-weekly podcast episodes we will discuss the stories in turn.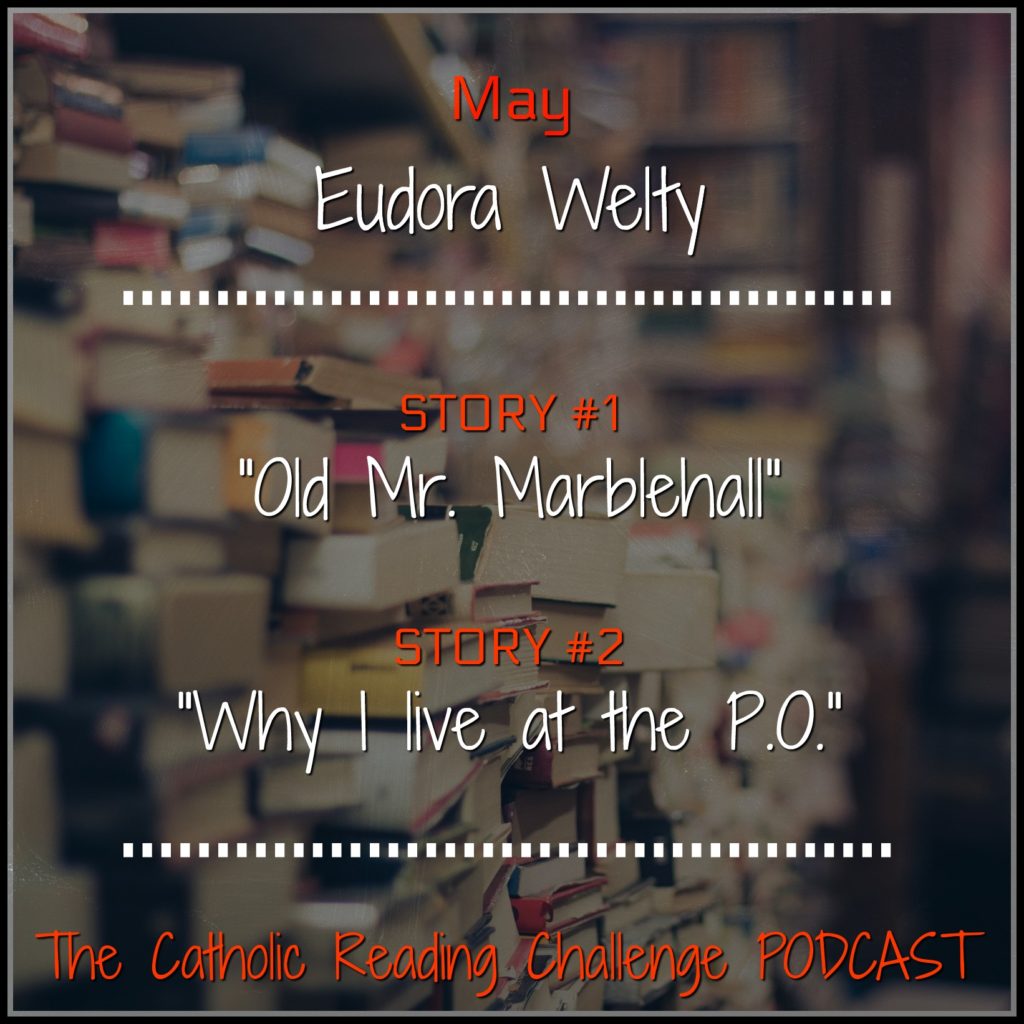 We are reading another American Southern author this month — Eudora Welty. I recently read her memoir, One Writer's Beginnings, and found parts of her life quite interesting. For example, her father was from Ohio and her mother from West Virginia, but when they married they settled and raised their family in Jackson, Mississippi. Welty recalls the family's annual trips north to visit family in their automobile. Her mother monitored the map, and her father kept his pistol in the side of the driver's side door–just in case. (Indeed… remember O'Connor's "A Good Man is Hard to Find"? If only that family had had a pistol in their car door.)
I really cannot imagine what it would have been like for a family in the early 1900s with three young children (one a baby at the time riding on his mother's lap in the front!) to make such a long trip every year. Even with iPads, unlimited snacks, GPS directions, iPhones, and numerous pit stop options, my husband and I get a little nervous about traveling with our kids for more than six hours! So those kinds of stories of her life provided some insight of Welty's parents' influence on her scope and view of the world.
She also worked as a journalist for a time, writing and taking photographs; and I came away having the sense that she was someone who watched and listened to the people around her, perhaps people that others overlooked. I think that such habits of life may be evidenced in the stories that we read by her this month. As we have discussed on the podcast many times, good novelists and short story masters are able to help us see what is real–real people, real places–the good, the bad, and the ugly. It is certainly no different with Welty and the characters of her stories.
I will be reading both stories from this little collection I picked up at a local book sale. I absolutely love the picture on the cover. But there are many other compilations available online or through your library. I hope you read along and listen in to our discussions!
Copyright 2020 Jessica Ptomey